Update on Library Electronic Resources

Electronic Journal Service on SwetsWise Platform Discontinued

Access to electronic journal service provided through SwetsWise platform will be discontinued with effect from 1 January 2005 due to switch over of the subscription agent. However, full-text e-journal titles can be accessed automatically through publishers' Web sites provided in the bibliographic records of the HKBU Library Catalogue.

For example, searching the journal Business Law Review would result in the following record display where users can click on the link of "online access from ..." to retrieve the full texts.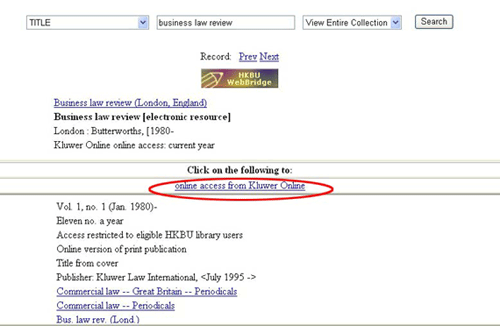 You can access the newly subscribed library e-resources on the library homepage at: http://www.hkbu.edu.hk/lib/new/newdbs.html

| | |
| --- | --- |
| Note: | Please ensure proper configuration of your PC when accessing Library-subscribed electronic resources. Should you need assistance, please call the Reference Desk at 3411-7363 during library service hours, or submit your inquiries through "Ask a Librarian" web inquiry service at <http://www.hkbu.edu.hk/lib/others/ask.html>. |