Icons in the HKBU Library Catalogue for Types of Materials

To help users in easily identifying the types of searched materials when using KEYWORD search of the HKBU Library Catalogue, a relevant pictorial icon is now added next to each title in the results list. Please find below a sample screen: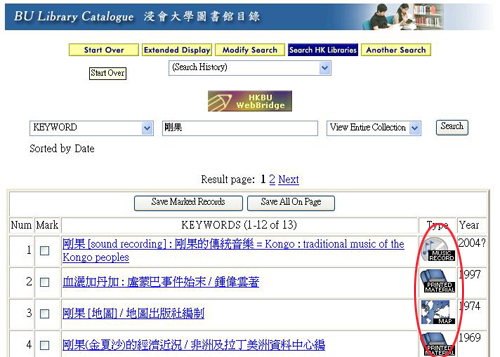 Below is a table listing most frequently used icons for your reference:
Icons
Types of Materials Represented
General books, Reference books (R),
Serials / Periodicals (S), Microforms (MF)
Indexes & databases, E-books, E-journals,
Internet resources, Computer software (AVW)
Videocassettes (AVH), Videodiscs (AVI),
Filmstrips (AVZ), etc.
Sound cassettes (AVC), Music CDs (AVD), etc.
Manuscripts, Theses (TH)
Music Scores (AVM)
Maps, Atlases, Globes

If you have any enquiries regarding this enhanced feature, you are most welcome to contact our duty librarian on Level 3 of the Main Library at 3411-7363.