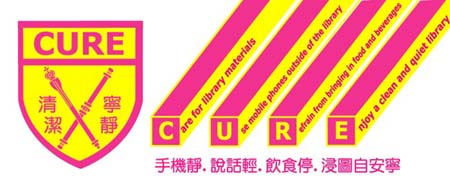 CURE Campaign @ HKBU Library

You may have participated in the CURE Campaign by casting your vote during the recent Library Weekly Opinion Poll. The purpose of the Campaign is to promote awareness of library users' etiquette, in order to keep the library clean and quiet.
The Campaign exhibition is a reminder on mobile phone manners, care for library materials and library demerit point system for improper behaviour. Results of the Weekly Poll will be displayed alongside library responses. A panel will be posted with articles on public concern regarding library users' behaviour and space will be set aside for users' opinions. Damaged books on display will emphasize to users the importance of "no food and drink in the Library" policy.

Come to Level 3 of the Library from Oct 3rd - Oct 31st to find out more about CURE !