Newly Subscribed Electronic Resources

ProQuest Full-text Dissertations 學位論文全文檢索系統
透過最近參與 CALIS 聯盟訂購,浸大圖書館的讀者現可使用ProQuest 學位論
文全文檢索系統。ProQuest 學位論文全文檢索系統是著名的學位論文資料庫,
收錄有歐美1,000餘所大學不同領域的博士及碩士學位論文。此資料庫現時共收
錄了25,000份論文的全文供讀者檢索及閱讀。
Through the recent participation in the CALIS (China Academic Library & Information System) consortium, the HKBU Library users are now able to access ProQuest Full-text Dissertation. Though in Chinese interface, the database provides full-texts of theses and dissertations on a wide range of subject areas from over 1,000 universities in Europe and the United States. At present, this database collections 25,000 titles of theses and dissertations for searching and reading.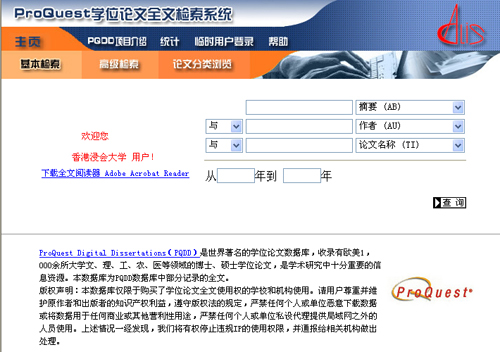 Journal Citation Reports

For the convenience of users, all subscribed editions of Journal Citation Reports (1999, 2001, 2003, and 2004) are now accessible via Library's homepage. Users are able to make use of the past and existing data such as comparing impact factors of a journal in different years..
| | |
| --- | --- |
| Note: | Please ensure proper configuration of your PC when accessing Library-subscribed electronic resources. Should you need assistance, please call the Reference Desk at 3411-7363 during library service hours, or submit your inquiries through "Ask a Librarian" web inquiry service at <http://www.hkbu.edu.hk/lib/support/ask.html>. |