Derwent Collection

The Library is pleased to announce that it has acquired the Derwent Collection. The original owner, Mr. Brian Cuthbertson, began the collection more than twenty years ago and has now generously donated it to the Library.
The focus of the Derwent Collection is on Macau as depicted in art and described in books, shortly after it became a Portuguese colony in the 16th century until its return of sovereignty to the People's Republic of China in December 1999. The more than 300 art works in the collection date from the early 17th century to the late 20th century and include prints, maps, original drawings and paintings, and photographs. Most of these works were created by western professional and amateur artists and photographers who visited or lived in the Far East, and depict the scenery and landmarks in and around Macau, as well as the social life and customs of the local population. Well-known 19th century artists represented in the collection include George Chinnery and Auguste Borget. There are also art works depicting scenes and places in China, Hong Kong, and Southeast Asia.
The art in the collection is complemented by several hundreds of books, some of which were published in the first half of the 19th century. Included are historical writings on Macau and China, as well as accounts of travel and exploration in those places. There are also art exhibition and gallery catalogs with illustrations of art works, some of the originals of which are now a part of the Derwent Collection. Together, the art works and books in the Derwent Collection provide a rich visual and print resource for the history, study and appreciation of Macau and China.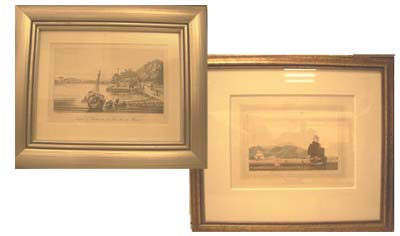 Sample item 2
"Macao, China". Coloured aquatint, London,
1810. Drawn and engraved by Thos & Willm Daniell.
For information on the use of the collection please contact the Library's Special Collections & Archives by phone at ext. 5937 or e-mail to libarc@hkbu.edu.hk.