This free trial is provided by database vendor. Please make use of the opportunity to trial this resource and forward any comments through the Electronic Resources Evaluation Form.


NetTraderCards
(trial period: 4 Dec to 9 Dec 2006)
(username: ******** ; password: ********)
Published by HSBC Broking (Data Services) Limited, NetTraderCards provide corporate and financial information of all companies primarily listed in Hong Kong. Information includes: Corporate information, share capital history, 5-year financial statemtns, latest fund raising exercise, 12-month share prices/charts, etc.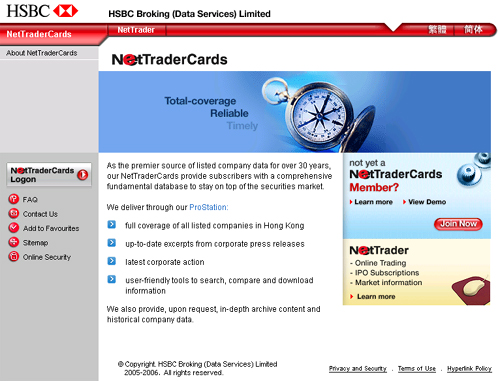 Free trial electronic resources can be accessed on the library homepage at: http://www.hkbu.edu.hk/lib/new/resources.html
| | |
| --- | --- |
| Note: | Please ensure proper configuration of your PC when accessing Library-subscribed electronic resources. Should you need assistance, please call the Reference Desk at 3411-7363 during library service hours, or submit your inquiries through "Ask a Librarian" web inquiry service at <http://www.hkbu.edu.hk/lib/support/ask.html>. |