These free trials are provided by database vendors. Please make use of the opportunity to trial these resources and forward any comments through the Electronic Resources Evaluation Form.

1. Road to IELTS
(trial period: until 31 May 2007)

Road to IELTS contains learning materials developed by the British Council. It provides comprehensive preparation and practice in every aspect of the four Modules including Speaking, Listening, Reading and Writing of the IELTS exam.
Flash player version 8.0 or above is required. First-time user can create a user account for checking the progress or click [Enter] to proceed.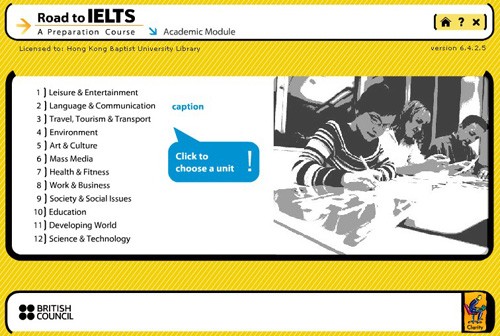 2. PRC Transfer Pricing Commentary
(trial period: until 31 May 2007)

PRC transfer pricing commentary, a publication of CCH Asia, provides up-to-date information on the recent transfer pricing developments. It provides expert guidance on transfer pricing legislation, rules, cases, practices and insights on the various solutions available to current issues affecting people doing business in China.
To access the resource, you need to enter username/password:
Username: ********
Password: ********
Free trial electronic resources can be accessed on the library homepage at: http://www.hkbu.edu.hk/lib/new/resources.html
| | |
| --- | --- |
| Note: | Please ensure proper configuration of your PC when accessing Library-subscribed electronic resources. Should you need assistance, please call the Reference Desk at 3411-7363 during library service hours, or submit your inquiries through "Ask a Librarian" web inquiry service at <http://www.hkbu.edu.hk/lib/support/ask.html>. |