Free trials are provided by database vendors to HKBU. Please make use of the opportunity to trial potential resources and forward any comments through the Electronic Resources Evaluation Form.

NetLanguages - Grammar Practice
(Trial period: until 29 August 2007)
A new course provided by NetLanguages, Grammar Practice provides basic, intermediate and advanced levels of grammar practice for English language learning. The self-study materials include interactive exercises and feedback, and explanations and examples are provided throughout.

Note: For the trial, the above link will provide you with an ID/Password for access. When you go to the site (via the password page) enter the ID/Password and select Grammar Practice from the "choose a course" drop-down menu.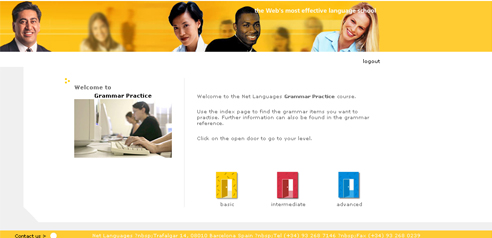 Free trial electronic resources can be accessed on the library homepage at: http://www.hkbu.edu.hk/lib/new/resources.html
| | |
| --- | --- |
| Note: | Please ensure proper configuration of your PC when accessing Library-subscribed electronic resources. Should you need assistance, please call the Reference Desk at 3411-7363 during library service hours, or submit your inquiries through "Ask a Librarian" web inquiry service at <http://www.hkbu.edu.hk/lib/support/ask.html>. |