Free trials are provided by database vendors to HKBU. Please make use of the opportunity to trial potential resources and forward any comments through the Electronic Resources Evaluation Form.
PRC Transfer Pricing / China Accounting Preparation Series
(trial period: until 30 September 2007)

PRC Transfer Pricing rovides up-to-date information on recent transfer pricing developments. It provides expert guidance on transfer pricing legislation, rules, cases, practices and insights on the various solutions available to current issues affecting people doing business in China.
Also available - China Accounting Preparation Series

Series I: Financial Reporting
Series II: Recognition & Accounting Treatment for Accounting Elements
Series III: Accounting for Particular Events & Special Transaction Manual
To access these resources:
1) Go to http://www.cch.com.hk
2) Enter username/password (case sensitive):
Username: ********
Password: ********
3) Scroll down to see their Online Products, and choose the one you want to try.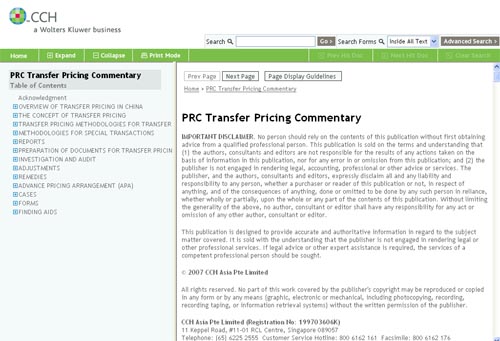 Free trial electronic resources can be accessed on the library homepage at: http://www.hkbu.edu.hk/lib/new/resources.html
| | |
| --- | --- |
| Note: | Please ensure proper configuration of your PC when accessing Library-subscribed electronic resources. Should you need assistance, please call the Reference Desk at 3411-7363 during library service hours, or submit your inquiries through "Ask a Librarian" web inquiry service at <http://www.hkbu.edu.hk/lib/support/ask.html>. |