These free trials are provided by database vendors. Please make use of the opportunity to trial these resources and forward any comments through the Electronic Resources Evaluation Form.


Arts & Humanities Citation Index (Web of Science)
(Trial period: until 31 December 2007)

Like its companion products in the sciences and social sciences, the Arts & Humanities Citation Index offers a comprehensive index to the literature AND a powerful citation searching capability allowing for rich information discovery. Citation searching allows you to determine how many times an article or author has been cited, or from any article, identify cited and citing articles quickly and easily.
Our trial version is available within the NEW and COMING SOON Web of Science interface, so all Web of Science users (arts/humanities, sciences, social sciences) are invited to try out this new interface.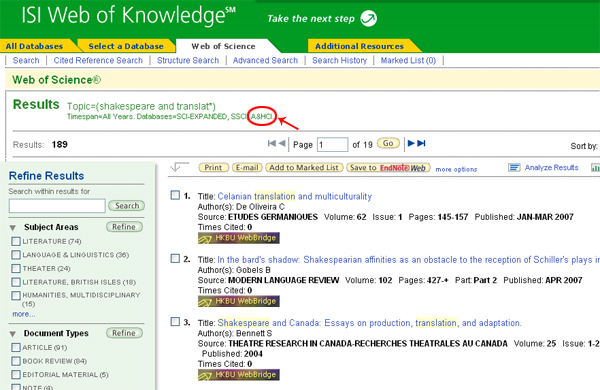 Free trial electronic resources can be accessed on the library homepage at: http://www.hkbu.edu.hk/lib/new/resources.html
| | |
| --- | --- |
| Note: | Please ensure proper configuration of your PC when accessing Library-subscribed electronic resources. Should you need assistance, please call the Reference Desk at 3411-7363 during library service hours, or submit your inquiries through "Ask a Librarian" web inquiry service at <http://www.hkbu.edu.hk/lib/support/ask.html>. |