These free trials are provided by database vendors. Please make use of the opportunity to trial these resources and forward any comments through the Electronic Resources Evaluation Form.


Opposing Viewpoints Resource Center
(Trial available until November 30)
"Opposing Viewpoints Resource Center is a one-stop source for information on today's hottest social issues." (from website) Drawing on the Greenhaven Press' "Opposing Viewpoints" series, and supplemented with other full text resources, OVRC features viewpoint articles, topic overviews, general articles, primary source documents, statistics and more. A critical thinking module is also available which provides guiding questions, suggested outlines, and more. For something new, try listening to articles by choosing MP3 files instead of fulltext (when available).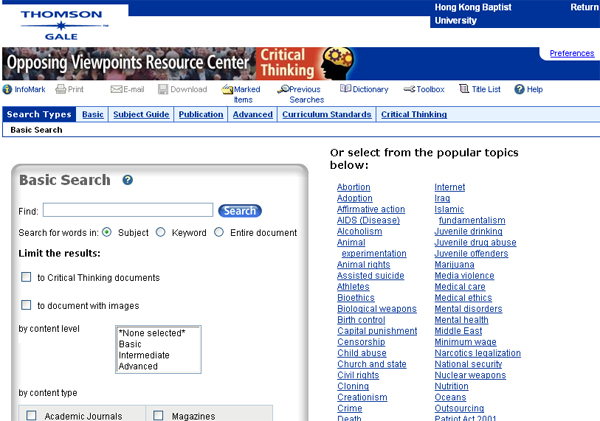 Free trial electronic resources can be accessed on the library homepage at: http://www.hkbu.edu.hk/lib/new/resources.html
| | |
| --- | --- |
| Note: | Please ensure proper configuration of your PC when accessing Library-subscribed electronic resources. Should you need assistance, please call the Reference Desk at 3411-7363 during library service hours, or submit your inquiries through "Ask a Librarian" web inquiry service at <http://www.hkbu.edu.hk/lib/support/ask.html>. |