Newly Subscribed Electronic Resources


Opposing Viewpoints Resource Center

"Opposing Viewpoints Resource Center is a one-stop source for information on today's hottest social issues." (from website) Drawing on the Greenhaven Press' "Opposing Viewpoints" series, and supplemented with other full text resources, OVRC features viewpoint articles, topic overviews, general articles, primary source documents, statistics and more. A critical thinking module is also available which provides guiding questions, suggested outlines, and more. For something new, try listening to articles by choosing MP3 files instead of fulltext (when available).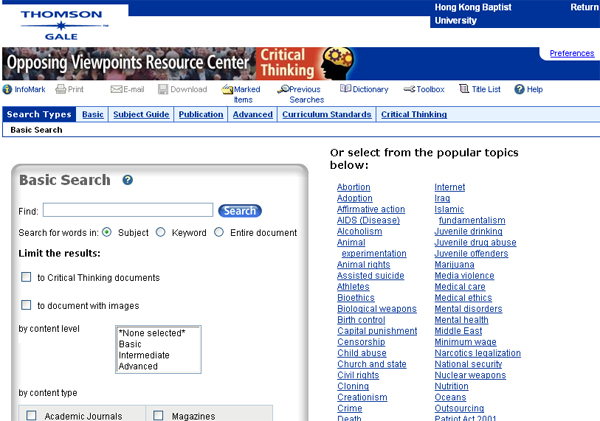 Electronic Resource Cancellation
Polling the Nations
Due to very low usage, and after consulting with the GIS and Sociology Departments, the Library has cancelled its subscription to this resource. The last day to access this resource is 28 February 2008.
| | |
| --- | --- |
| Note: | Should you need assistance, please call the Reference Desk at 3411-7363 during library service hours, or submit your inquiries through "Ask a Librarian" web inquiry service at <http://www.hkbu.edu.hk/lib/support/ask.html>. |