These free trials are provided by database vendors. Please make use of the opportunity to trial these resources and forward any comments through the Electronic Resources Evaluation Form.

Historical Statistics of the United States
(trial period: until 21 March 2008)

Revised and expanded, this edition of the standard source for U.S. historical data is now available online. HSUS covers virtually all aspects of American history with extensive data pertaining to population, work, economics, science, international relations, etc. With over 37,000 data series, the electronic edition allows searching and downloading, as well as providing users with the ability to create customized tables and spreadsheets to suit their own needs. Accompanying essays for each chapter provide scholarly overviews of the topic and data, and provide references for further reading.

Please note that the trial version only provides access to Part A - Population.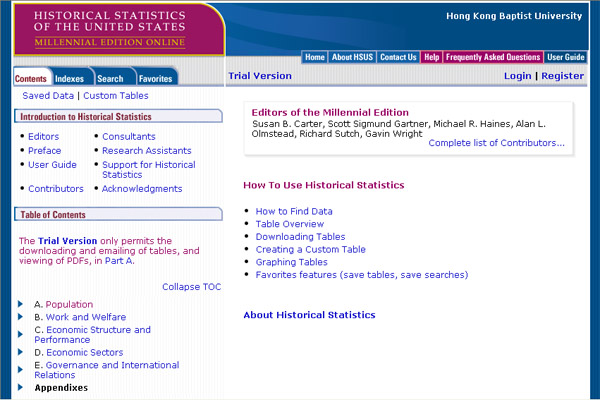 Free trial electronic resources can be accessed on the library homepage at: http://www.hkbu.edu.hk/lib/new/resources.html
| | |
| --- | --- |
| Note: | Should you need assistance, please call the Reference Desk at 3411-7363 during library service hours, or submit your inquiries through "Ask a Librarian" web inquiry service at <http://www.hkbu.edu.hk/lib/support/ask.html>. |