These free trials are provided by database vendors. Please make use of the opportunity to trial these resources and forward any comments through the Electronic Resources Evaluation Form.

中華法律網 - 法律資料庫 (iSinoLaw)
(trial period: until 5 May 2008)

中華法律網的法律資料庫收集並及時更新中國法律法規、立法及司法解釋、審判案例、仲裁裁決和其他法律資料。除法律法規文本外,資料庫亦提供中國法律英文譯本及有關法制資訊,為讀者提供內容全面的雙語法律資料。

為了方便中外學者查閱,資料庫採用中英雙語檢索介面。讀者可以中文繁簡體字及英語作全文檢索,又或運用"標題"和"頒布日期"等等欄位檢索資料。讀者可前往以下網址查閱資料:http://www.isinolaw.com

iSinoLaw database provides access to comprehensive and up-to-date laws and regulations, legislative and judicial interpretations, court judgments and other legal information of the People's Republic of China. It also provides bilingual version of the laws and regulations as well as other legal documents and news. To facilitate the retrieval of the information included in this database, the materials are indexed in both English, Traditional and Simplified Chinese and it is searchable by "title" and "promulgation date" . Access to the database is available at: http://www.isinolaw.com.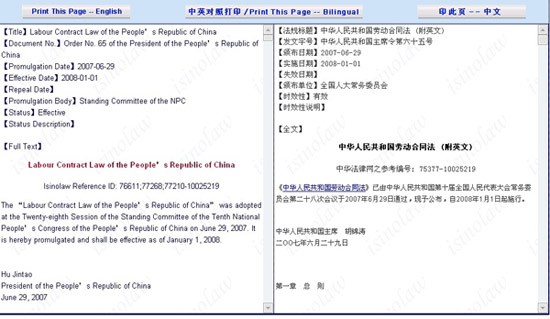 Free trial electronic resources can be accessed on the library homepage at: http://www.hkbu.edu.hk/lib/new/resources.html
| | |
| --- | --- |
| Note: | Please ensure proper configuration of your PC when accessing Library-subscribed electronic resources. Should you need assistance, please call the Reference Desk at 3411-7363 during library service hours, or submit your inquiries through "Ask a Librarian" web inquiry service at <http://www.hkbu.edu.hk/lib/support/ask.html>. |