Newly Subscribed Electronic Resources


Oxford Scholarship Online

Access over 1800 full text Oxford titles with this highly regarded collection of eBooks. Providing particularly strong coverage in religion, philosophy, political science, economics and finance, the collection also offers a considerable number of titles in literature, language, biology, mathematics, business and history. Browse through chapters or search the full text; print sections easily; and link to check availability of titles listed in the bibliography!
All of our eBooks are in the Library Catalog, so searching for any title or topic will find relevant Oxford Scholarship Online titles. If you want to limit your search to this collection only, try our eBooks search page, and limit to Oxford Scholarship Online in the Series drop-down menu. Finally, you can go to OSO directly, and browse or search from their collection.
Oxford Scholarship Online is made available as part of the second phase funding from the ERALL Consortium Project.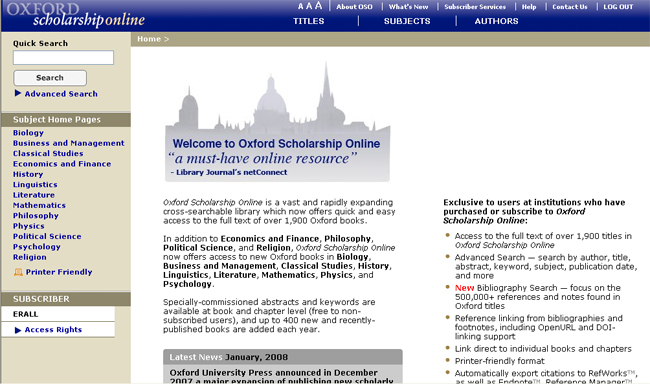 You can access the newly subscribed library e-resources on the library homepage at: http://www.hkbu.edu.hk/lib/new/resources.html

| | |
| --- | --- |
| Note: | Please ensure proper configuration of your PC when accessing Library-subscribed electronic resources. Should you need assistance, please call the Reference Desk at 3411-7363 during library service hours, or submit your inquiries through "Ask a Librarian" web inquiry service at <http://www.hkbu.edu.hk/lib/support/ask.html>. |