New e-Resources


Ebrary

We are very pleased to announce that the Library has significantly expanded its eBook collection with over 4000 titles via our new subscription to Ebrary — one of the largest eBook publishers in the industry covering all academic disciplines.
All of our eBooks are in the Library Catalog, so searching for any title or topic will find relevant Ebrary titles. If you want to limit your search to this collection only, try our eBooks search page, and limit to Ebrary in the Series drop-down menu. Finally, you can go to Ebrary directly, and browse or search from their collection. You will be prompted to install the Ebrary Reader plug-in on your computer the first time you access this collection. Please contact Information Services via x7363 or our Ask a Librarian webpage if you need assistance in accessing or using Ebrary.
This subscription is part of the ERALL grant which recently brought us over 1800 titles from Oxford Scholarship Online, and that last year gave us 8800 Springer eBooks, Wiley Electronic Major Reference Works and Blackwell Reference Online. ERALL (Electronic Resources Academic Library Link) is a joint project of the eight UGC funded libraries which has successfully secured one-time funding specifically for the purchase of English language electronic books.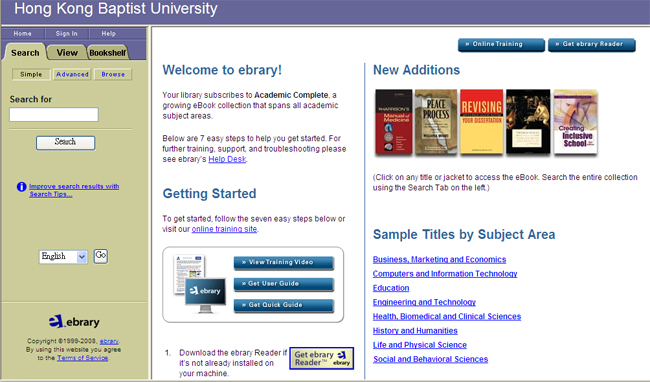 You can access the newly subscribed library e-resources on the library homepage at: http://www.hkbu.edu.hk/lib/new/resources.html

| | |
| --- | --- |
| Note: | Please ensure proper configuration of your PC when accessing Library-subscribed electronic resources. Should you need assistance, please call the Reference Desk at 3411-7363 during library service hours, or submit your inquiries through "Ask a Librarian" web inquiry service at <http://www.hkbu.edu.hk/lib/support/ask.html>. |