Electronic Resources Update


Blackwell Synergy merges into Wiley Interscience

With last year's merge of major publishers Blackwell and Wiley forming Wiley-Blackwell, the company is now merging the journal content from the Blackwell Synergy platform into the Wiley Interscience platform as of June 30, 2008. Blackwell Synergy will no longer be available after this date. Users with bookmarks to Synergy journal titles will be automatically redirected to the Wiley Interscience platform, where they can continue to access all of the titles previously available on the Synergy platform.
NOTE: From 28 June 9 am to 30 June 9 am, access to titles from Blackwell and Wiley will be unavailable while this merge takes place.
The Wiley Interscience platform has the standard services and features of Blackwell Synergy, though with slight variations in design and terminology. If you have any problems accessing journals, personalized settings, or saved searches/alerts, please contact the Reference Desk (in person, x7363, or Ask a Librarian) and we will be happy to assist getting you set up in the new environment.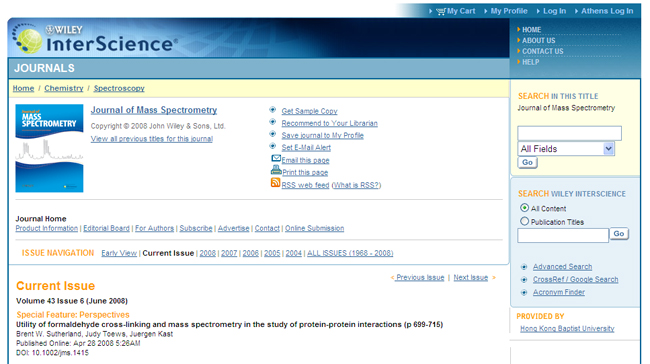 You can access the newly subscribed library e-resources on the library homepage at: http://www.hkbu.edu.hk/lib/new/resources.html

| | |
| --- | --- |
| Note: | Please ensure proper configuration of your PC when accessing Library-subscribed electronic resources. Should you need assistance, please call the Reference Desk at 3411-7363 during library service hours, or submit your inquiries through "Ask a Librarian" web inquiry service at <http://www.hkbu.edu.hk/lib/support/ask.html>. |