Picturing ArtGallery@HKBU Library - Announcement of winners

Ever wondered how to illustrate the pride of the HKBU community in a visual way? Contestants took up the challenge to create a new look for the ArtGallery by participating in the Picturing ArtGallery@HKBU Library design competition. All entries showed great creativity, so making a selection was difficult. A jury made up of Mr. Peter Benz (Academy of Visual Arts), Mr. Wade Chan (Digital Graphic Communication) and the Library Senior Management selected 1 winner and 1 runner-up. Both are students from the Academy of Visual Arts.
Miss Sonjia Yu Gar Wai, a year 2 student, was selected as the winner of the competition. Her design, entitled "TheBook", consists of millions of dots making up an image of a book representing the history of the University. The design will give viewers a diversity of perspectives from different levels of the ArtGallery.

Miss Monica Fu Wing Tung, a year 3 student, was selected as the runner-up of the competition. Named after the old Chinese idiom "Drops make river", her design is a waterfall-like installation symbolizing the collective achievements of the University.

The new design will be launched during the First Semester.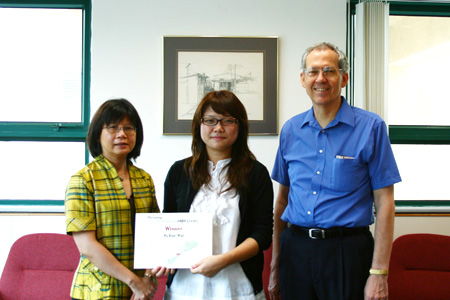 (from right) Dr. Webb, University Librarian, Miss Yu Gar Wai and Ms. Kylie Chan, Associate Librarian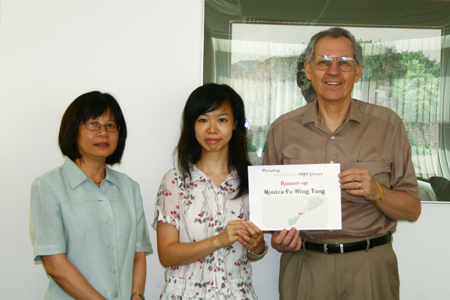 (from right) Dr. Webb, University Librarian, Miss Fu Wing Tung and Ms. Kylie Chan, Associate Librarian