These free trials are provided by database vendors. Please make use of the opportunity to trial these resources and forward any comments through the Electronic Resources Evaluation Form.

IEEE Electronic Library
(trial period: until ?? 2009)

This research database allows you to search and access IEEE Journals, Transactions, Magazines, Letters, Conference Proceedings, Standards (current only), and IEE Journals and Conferences. Subjects covered include electrical & electronics engineering, computer science, and telecommunications. Full text is provided in PDF format including photographs and charts. Coverage is from 1988 to the present, with some journals and conference titles available from 1950.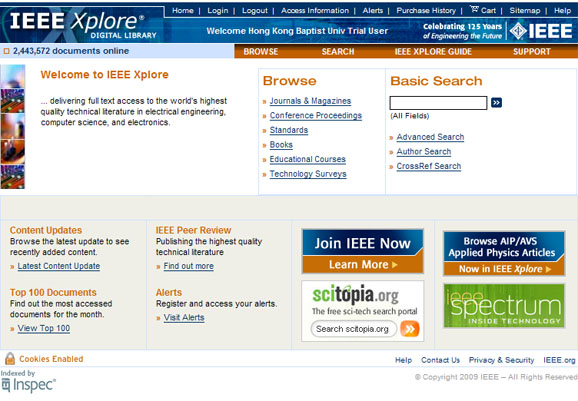 Free trial electronic resources can be accessed on the library homepage at: http://www.hkbu.edu.hk/lib/new/resources.html
| | |
| --- | --- |
| Note: | Please ensure proper configuration of your PC when accessing Library-subscribed electronic resources. Should you need assistance, please call the Reference Desk at 3411-7363 during library service hours, or submit your inquiries through "Ask a Librarian" web inquiry service at <http://www.hkbu.edu.hk/lib/support/ask.html>. |