New E-Resources


中國工具書網絡出版總庫(China Reference Works Online)

香港浸會大學圖書館選購了《中國工具書網絡出版總庫》中有關中醫藥專業參考書庫。此子書庫匯集了近200本中醫藥工具書及 50餘部醫學詞典。讀者可以進行 "詞目"、"詞條"(全文)、"書名"、 "出版者"、 "作者"等多種檢索。 檢索範圍可選擇在單本書內檢索,也可跨書、跨學科檢索。

HKBU library subscribes to selected titles from China Reference Works Online. This subset consists of over 200 Chinese-medicine specialized dictionaries and encyclopedias as well as some 50 reference works in general medicine published in mainland China.

The online reference collection allows users to search Chinese medical terms within a specific title or across multiple titles at the same time. In addition, users can search by "title", "publisher", "author", "entry full text" and other fields.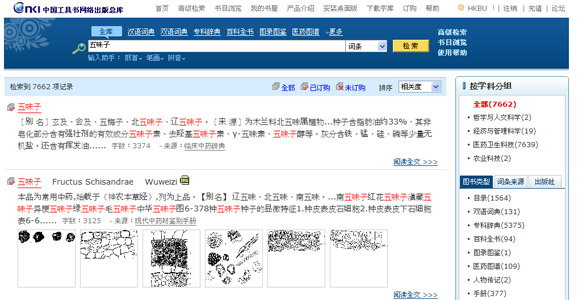 You can access the newly subscribed library e-resources on the library homepage at: http://www.hkbu.edu.hk/lib/new/resources.html

| | |
| --- | --- |
| Note: | Please ensure proper configuration of your PC when accessing Library-subscribed electronic resources. Should you need assistance, please call the Reference Desk at 3411-7363 during library service hours, or submit your inquiries through "Ask a Librarian" web inquiry service at <http://www.hkbu.edu.hk/lib/support/ask.html>. |