These free trials are provided by database vendors. Please make use of the opportunity to trial these resources and forward any comments through the Electronic Resources Evaluation Form.

EMBASE
(Trial Period: until 30 June 2010)

EMBASE is a comprehensive biomedical and pharmacological database. It focuses on drug and pharmaceutical research and provides access to citations and abstracts from international peer-reviewed journals in tracking drug adverse events, comparing drug therapies, and evidence-based medicine research.

HKBU's trial contains records from 1980 to current, majority of which have author-written abstracts. Similar to other databases supported by the OVID platform, EMBASE has its own thesaurus and provides a powerful subject heading search. Users may select terms from the database's hierarchical subject tree to expand or focus their search. The option to select and simultaneously search other HKBU-subscribed OVID databases (Medline, EBM Review, and AMED) is available.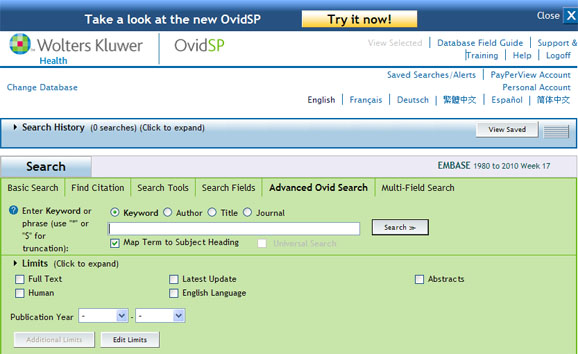 Free trial electronic resources can be accessed on the library homepage at: http://www.hkbu.edu.hk/lib/new/resources.html
| | |
| --- | --- |
| Note: | Please ensure proper configuration of your PC when accessing Library-subscribed electronic resources. Should you need assistance, please call the Reference Desk at 3411-7363 during library service hours, or submit your inquiries through "Ask a Librarian" web inquiry service at <http://www.hkbu.edu.hk/lib/support/ask.html>. |