These free trials are provided by database vendors. Please make use of the opportunity to trial these resources and forward any comments through the Electronic Resources Evaluation Form.

Counseling and Psychotherapy Transcripts, Client Narratives, and Reference Works
(trial period: until 1 July 2010)

This is a searchable collection of actual transcripts of therapy and counseling sessions, first-person narratives of those experiencing mental illness and its treatment, and reference works to provide context to the primary material. The database currently includes more than 19,000 pages of session transcripts, more than 26,000 pages of client narratives, and more then 24,000 pages of secondary reference material.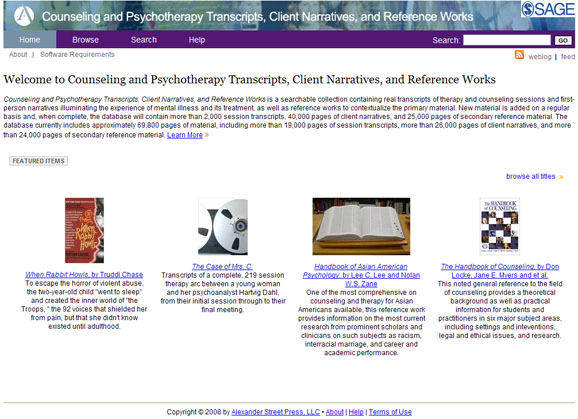 Counseling and Therapy in Video
(trial period: until 1 July 2010)
This resource provides a large collection of online video relevant to the study of social work, psychotherapy, psychology, and psychiatric counseling. In the current release there are 284 videos totaling over 300 hours. The collection's videos give multiple perspectives on counseling studies, and offer scholars a unique way to study this topic.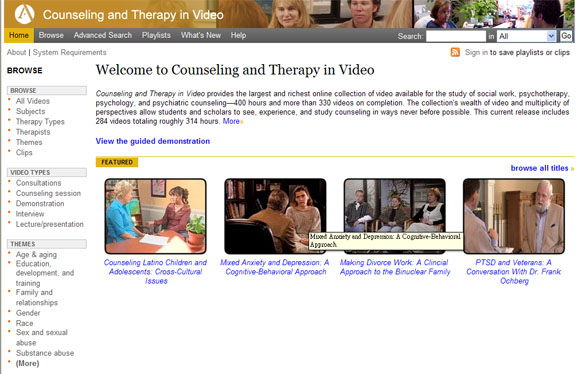 Free trial electronic resources can be accessed on the library homepage at: http://www.hkbu.edu.hk/lib/new/resources.html
| | |
| --- | --- |
| Note: | Please ensure proper configuration of your PC when accessing Library-subscribed electronic resources. Should you need assistance, please call the Reference Desk at 3411-7363 during library service hours, or submit your inquiries through "Ask a Librarian" web inquiry service at <http://www.hkbu.edu.hk/lib/support/ask.html>. |